---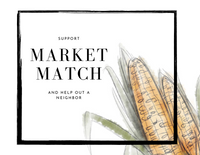 Give to Market Match
💵 Market Match is a program that adds purchasing power to SNAP, which used to be called food stamps. In fact, Market Match doubles SNAP benefits with a daily cap of $30. So if a shopper has $50 of locally produced food, we swipe their SNAP card for $25, and if the shopper has $75 of locally produced food, we swipe their SNAP card for $45.

We are proud to accept SNAP benefits, and we are proud to have operated Market Match for five years now, starting at our outdoor market. This year, a local foundation called Berkshire Ag Ventures raised a total of $116,500 for Market Match funds for a dozen regional farmers markets. They wrote us a check for $17,500 in late May.
Shoppers starting using those funds at our outdoor and indoor farmers in June and exhausted them by the end of October. The market itself has covered the costs of the program since then as a stopgap measure. But we can't do that through the winter.
As a program, Market Match works incredibly well. There's no overhead. There's no mismatch between gifts and needs. There's no waste. It helps low-income families access nutritious food, and it improves revenues for local farmers and food producers along the way. It bouys your local food system.
🙏 People who use SNAP to make their food budgets work love the program. I have been witness to all manner of expressions of gratitude. People smile. People laugh. People express astonishment. People cry occasionally. People thank us.
We attempt to demur. "It's not our money," we say. "Others made this possible."
People insist, "No, really, thank you. You have no idea how helpful this is for me." That's probably true.
👩‍👧‍👦 But I do know how to access census data on poverty. Let's take just New Lebanon as an example.
The best estimate is that there are 302 children who live here. The best estimate is that 56 of them live below the poverty level. The best estimate is that there are 1,602 adults between the ages of 18 and 64 and that 168 of them live below the poverty level.
What's the definition of poverty? It depends on the details of the household. It means annual income of $21,831 for one mom and two kids. It means annual income $14,097 for an adult living alone.
Needless to say, that is very little money. It's not easy to buy fresh lettuce and carrots and good milk and bread and eggs on that budget.
🎁 If you have not already exhausted your budget for end-of-year giving, we're asking you to give to our Market Match fund. It's critically important, and it's an excellent way to give.
Our goal is to raise $10,000 by December 31. Can you help us get there?
Please pitch in and forward this message to others who may be fortunate enough to help.
😘 And yet!!
The importance and seriousness of all this doesn't require us to be grave.
Humans need fun and joy and laughter to be our best. Irreverence helps. Ridiculousness can be great.
So we have a fun idea. Actually, an anonymous market enthusiast pushed this idea onto us.
If we reach our goal, I will lose my beard. I'll shave it clean off. We're talking razor to the skin.
I've had this thing for ten years, and I'd keep it for at least another ten. But for this worthy cause, I will lose it on New Years Day and feel completely awkward for weeks. Wouldn't that be a gas?
Does that ridiculousness provide even a little bit of added motivation to give? With ample hesitation for my extremely brittle ego, I do hope so.
Also!!
🛍 We have an exclusive reward for the most generous among you. People who give at the $500 and $1000 levels will receive a locally made and super cute farmers market tote.
Local market supporters Mike and Jeanne have volunteered to handle production of totes boasting the likeness of our gorgeous new sign.
We'll be offering totes for sale in the new year, but this group will be completely unique. Mike's an excellent designer. These will be perfect in every way! No pressure, Mike!!
So will you be one of the beautiful people who decide to make a big gift to help your neighbors? Please, please do.