---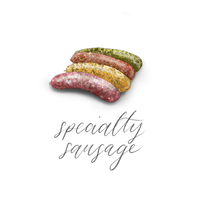 Specialty sausages
Special sausage this week comes from several local producers:
• Chicken Sausage • Simple, classic sweet italian sausage is available from Shaker Creek Farm made with their pasture-raised chicken.
• Sheep chorizo by the Flockery comes loose by the pound. This is actually mutton, and it's the good stuff.
• Polish kielbasa by Schaller & Weber comes by the one-pound ring
Sold out • Chicken Sausage • An homage to spring and all her lush herbs, the chicken herb sausage includes parsley, mint, dill, and chives. These links are delicious and savory and can be served alongside any pasta, veg, or in a roll with mustard.
Sold out • The jalapeño-cheddar by NLBCo is one of the great summer sausages. The jalapeños are roasted, and the cheddar is medium. Fry these on low — or, better yet, grill them away from the fire — to keep the good stuff on the inside.
Sold out • The ginger-scallion is a little bit spicy— fresh with ginger and scallions, black sesame seeds and a touch of honey. It is excellent alone, with steamed or fried rice, and in soup as well.
Sold out • A super fun spin on a favorite appetizer: spinach and artichoke dip. With marinated artichokes, parmesan and mozzarella cheeses, fresh garlic and spinach, this sausage is great alone and with pasta and potatoes.
Sold out • The chicken sausage is made with local chicken. With fresh garlic and rosemary as the base, this chicken sausage is simple and versatile.
 Sold out • With a delicious combo of cumin and roasted poblanos, the spicy cumin poblano is packed with flavor — and a little bit of heat. Also made with herbs like fresh cilantro and oregano, these links pair well with all the roasted veg and are excellent in tacos.