---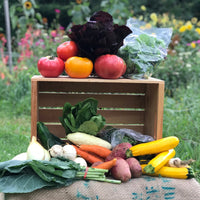 New Lebanon Cooperative CSA
This new CSA is a collaboration between Abode Farm, New Leaf Farm, and Gentle Time Farm to bring a wide variety of fresh, sustainably grown vegetables to our community through weekly farm shares. A farm share offers ten to twelve delicious vegetables per week for twenty weeks, hosted by the New Lebanon Farmers Market & Grocery.

Payment options?
We have three price levels: a full price option and low-income options at ¾ price and ½ price.
Members can pay for the CSA by credit card on this website or by check or SNAP at the market. (You'll find these options on the checkout page of this website, or simply stop into the market.)
The low-income options are possible because of the generous support of Berkshire Grown and individual donors to our CSA Access Fund. If you are able to donate, you will help offset the cost of a share for another community member!
All shares purchased via SNAP are also eligible for Market Match. If you have a low income, you can choose the ½ price share and pay with SNAP. We would swipe your SNAP card for $175. Then Market Match would cover $175 and our CSA Access Fund would cover $350.
Please contact the market with any questions regarding payment via hi@newlebanonfarmersmarket.com or by stopping in and saying hi. 
No one will be turned away for lack of funds!
How does it work?
To become a member, purchase your share on this website or in person at the farmers market.





Members will pick up at the market between 1pm and 6pm on Wednesdays, starting June 21 and wrapping up November 1. Delivery is also available. (The market will help with any issues picking up or receiving delivery).





Members will bring their own bags and select their items from a special area reserved for the CSA. (Some items may be pre-packed or mix-and-match, depending on the week.)
The farms will share weekly crop updates to give members a heads up about what veggies to expect each week and will share fuller updates throughout the season.
What's in each share?
What's available each week will depend on the week, naturally! Here's a sense of what will be available by month:
June and July — Garlic, scallions, napa cabbage, fennel, celtuce, gai lan, arugula, bok choy, kale, basil, radishes, turnips, pea shoots, salad mix, leaf lettuce, head lettuce, carrots, snap peas, beans, cukes, and summer squash
August and September — Garlic, eggplant, peppers, chard, kale, summer squash, beets, potatoes, onion, spinach, carrots, salad mix, leaf lettuce, head lettuce, beans, sweet onions, cukes, tomatoes, cherry tomatoes
October and November — Garlic, carrots, beets, broccoli, chard, kale, potatoes, spinach, winter squash, cabbage, radishes, radicchio, fennel, onions, pea shoots, salad mix, leaf lettuce, head lettuce, shallots, escarole, bok choy, leeks